Contact us and Cuban Clinics

In fact, Cuba has one of the finest medical systems in the world! If you look into the subject, you will find that Cuba developed some vaccines which are used all around the world, that Cuban doctors use the same equipment as US doctors and those in the industrialized countries, and that Cuban doctors are in demand throughout the world. Many hospitals and health institutions in Cuba received honorary prizes for the quality of their services and equipment.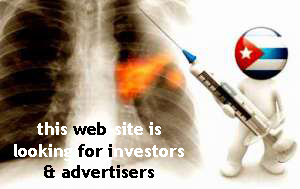 Looking for more information about medical treatment in Cuba or want to be assigned to a clinic that matches all of your demands? Sometimes we can be helpful but we would strongly advise you NOT to discuss with us your physical and emotional concerns but make effort and talk to a properly-qualified medical doctor in Cuba.
On the basis of doctor's talk with you, plus his examination and tests, the doctor should probably be able to tell you what he thinks is the likeliest outlook of your issue.
We offer medical treatment program design and consultation services to international patients on a fee basis. Our advisory fees are charged as a small percentage of your treatment program cost and are based upon the account size and start from just EUR 199 (USD approx. 241).
Do-it-yourself option
Optionally any person wishing to design the treatment program on his own can go to WWW.CARIBEMEDICA.COM and buy clinic's of his choice contact details at just EUR 3.- (USD app. 3.57)
Their fees are more than moderate
As a starting point, get the proper Cuban clinics directory and English-speaking telephone number. If you need Cuban clinic contacts it's simpler and quicker just to make your own research. However if you are busy or reluctant to search Cuban websites there's every chance that we can provide required contacts at moderate fee.
Contact e-mail:
drcubamd@gmail.com
Telephones:
+ 53 588 11 00 17 (sometimes unaccessible from outside Cuba)
Don't let your doubts hold you back. Comfortable mode of payment from ANY country online, in person, by phone. To make things even more easier we bill via friendly Panama entities. Don't hesitate to ask us for invoice.
Please email (drcubamd@gmail.com) the MoneyGram Reference Number or Western Union MTCN Number, Your First Name and Last Name, Your Country, (Telephone Number - optional) and the amount that you have paid.
If you are experiencing any difficulty please contact us via Email.
You may as well see answered some questions that come up while we are not able to answer at Cuba Doctors Patients Health Forum. Feel free to post your question there first.
loading...